Mann's Unique

Offerings


Please Click on a thumbnail for larger version.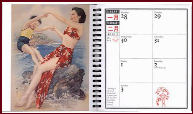 Made in China Engagement Calendar for 2002, but it is
Never Too Late!
this wonderful book contains 50 full color illustrations.
The phrase "made in China" was once only associated
with inexpensive imports. But the singular style
illuminated in products made in China is
Something else altogether.
the pop culture artifacts of modern-day china are
colorful, evocative, and rich in symbolism.
From firecracker wrappers to comic book covers to home
electronics, a wealth of Chinese culture is revealed each week
in this unique calendar.
Available NOW in limited quantities for $14.50 plus shipping
(fifteen ounce package)
See more Shanghai Posters at Mann Gallery Boston Arts
view thumbnails collection first
Visit the Main Gallery for more information
Go Back to BostonArts Opening Page
All photographs are the property of Mann Gallery.
any unauthorized user will be charged a usage fee.