Unique Asian Inspired Acquisitions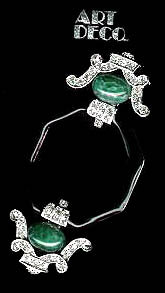 An Original Heirloom Pagoda" brooch of faux jade and jet from the decadant era? Or perhaps the finest Austrian crystals hand set in Rhodium.
Each piece in this collection was re-created by master artists, many who had to be brought out of retirement to faithfully duplicate the by-gone process. Each pieces is cast and hand made the way the original fine jewelry was created. Each piece is also numbered. These works of art are no longer available. packaged in a decorative black and silver easel display box with the logo of the company in black and silver, the "Charleston Dancer" by Ferdinand Priess.
3 1/8 x 1 5/8 inches - Sale Priced: $189.00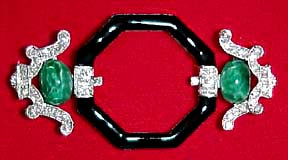 Mann Gallery BostonArts - Back to Thumbnails

Back to BostonArts Main Page
Contact at: gallery@attbi.com