Mann's Unique

Offerings



All of the women represented in the posters are movie or theatre stars,
Well known dancers and singers, etc.
A double book in a beautiful, heavy cardboard slip binder.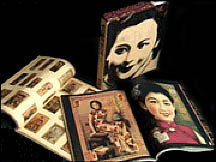 BOOK ONE begins with pages of explanation and accompanying photos
regarding the history of calendar posters in China and
the artists who painted them. It then evolves into
full-page reproductions of 50 of the most famous posters.
BOOK TWO is divided in three parts;
the first part fully catalogues all the posters produced from
1908 to 1939.
The second part describes their graphic and packaging design.
The third section catalogues the full roster of the models presented
with names and page references.
All pages printed on double paper allowing use of both sides;
This enables removal for individual framing.
There is also a pull-out calendar poster reproduction at the end of the book.
11 3/4" x 36"
Available for the first time imported in the USA directly.
Price: $120.00
to see more More Asian Art at Mann Gallery Boston Arts
Or view the thumbnails
Visit the Main Gallery for more information