Made in China Journal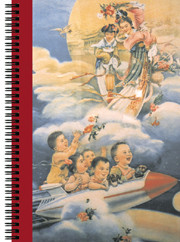 By Reed Darmon
5-3/4 x 8-1/4 in; 128 pp;
$9.50 Hardcover
The words "Made in China" are often associated with inexpensive imports.
But many of the products that hold that label are rich in tradition and symbolism.
From herbal packets and pulp fiction covers to rocket baby ads and
a feng shui compass, the wealth of Chinese culture is celebrated in the
Made in China address book, notecards,journal, and engagement calendar.
The journal has the front picture repeated on back.
Inside cover liners are Chinese characters frey on black.
Remainder of journal is lined pages, no pictures. Made in China Address Book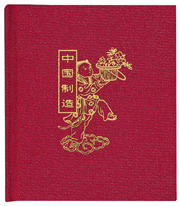 By Reed Darmon
4.5 x 5-1/4 in; 164 pp; Satin cover with silkscreen
$14.50 Hardcover
Beautiful keepsake book with a picture page before
each cut-in letter of the alphabet.
Reed Darmon is an award winning graphic designer,
and newspaper designer and artist for the Oregonian.
All items will ship book rate
Price according to Zip Code.
Buyer to pay postage.
View the thumbnails Page
Visit the Main Gallery for more information
Contact at: gallery@attbi.com